Are you are bored with your look?  Want to do something bold without changing your existing hair style? How about bangs!  Creating a bang is a substantial change to your look so how do you know if it will work for you?  Here are a few tips for figuring out whether to bang or not to bang!

If you have a long forehead (a lot of space between the bridge of your nose and your hair line
ex
Rhianna or Tyra Banks), bangs are a great option for you!  It's only common sense that if you have a large forehead, covering it with bangs will eliminate that illusion.  If you have a short or narrow forehead, bangs are not a very good option for you.  Having a bang in this instance will make your whole face appear shorter.  If you have a narrow forehead and are still insistent on having a bang, at least keep them short (as shown top left) to elongate the face as much as possible.  Here are some tips for common face shapes;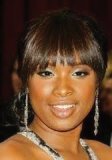 Round faces-
Steer clear of a bang that is straight across as it can make the face look wider.  Your best bet is a bang that is cut straight across with the sides left a little longer (Jennifer Hudson pic).  This is better than a completely rounded bang which can tend to make the face look even rounder.
Long faces- If your face is long, be careful not to choose too round of a rounded bang as it can make the face appear even longer.  Keeping the bangs at eyebrow level or longer is a good idea.
Oval faces- If you have this face shape, you are one lucky duck!  People with oval shaped faces can do just about anything with hair style or colour and are pretty much guaranteed to look great!
You've seen the commercials for shampoos that make your hair extra shiny for a fraction of the cost of professional products, right?  You want your hair to look just like the  model's so you go right out and buy it, right? Well, I'm here to tell you…to STOP!!!!
As a professional hair stylist, it's important for me and my clients to have nice, shiny and healthy hair so I can relate to your urges to go and buy a product that promises to deliver shiny, silky, frizz-free hair.  But there are reasons why that product, full of promises, is only a fraction of the cost…you get what you pay for!
Most shampoos, conditioners and styling aids you find in the drug store have a lot of the same ingredients as the professional products found in a salon, but at different ratios.  Anytime you read the ingredients on a product of any kind, they are listed from most to least.  Drugstore hair product brands have a high percentage of wax in them therefore making the hair appear to be beautifully shiny and healthy, all the while remaining unchanged underneath all of the wax.  The intense shine you get from the knock-off brands only masks the condition of the hair underneath.  Even the professional brands that you see sold in the drugstores are not what they seem.  These products have been altered (watered down) and so you're not really getting a professional product for a drugstore price.   A word to the wise is not to purchase a professional brand that you see sold in drugstores because they are no longer salon/professional quality and the companies make them are therefore cheating themselves and the customer. 
As a hair stylist, it only makes sense to use in the salon what your clients can only buy from you.  Salon shampoos and conditioners use more proteins, vitamins and moisturizers than the drugstore brands, which accoun for a deeper penetration into the hair shaft and that's what the user wants.  The same rules apply when it comes to styling aids such as hair spray, gel, mousse, etc. These drug store products can contain a high amount of alcohol which can be very drying to the hair especially when they're used on a regular basis.  Professional brand styling aids have a much lesser amount of alcohol or none at all. 
We all know the economy's not doing the best but if you're using drug store hair care products, likely, your hair's not doing the best either.   Sometimes it takes putting things into perspective to realize our priorities.  Your hair is an integral part of your appearance and  plays a major role in your overall look and feel so spend a few extra dollars and have peace of mind that you're doing the right thing…your hair deserves it!
The tiara is bought but now you're thinking it doesn't seem to reflect your unique sense of style. Well, here's an idea for you!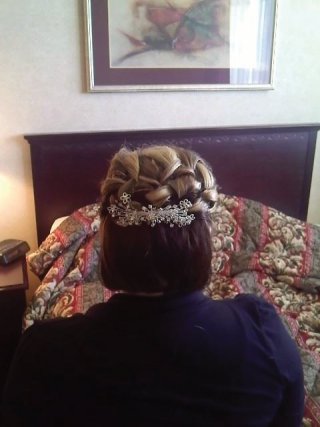 Place your tiara on the back of your head instead of facing front. Place it just below your crown and make sure it's sitting comfortably and pin in.  This technique works best with a half up-half down style where the intricate work is on top and the the rest of the hair will hang below the tiara. It could also be done with a full up do where it would be amid all of the curls/detailed work.
These days almost anything goes so don't be afraid to experiment and come up with something different and unique to you!
Brides…did you know?
So you've got the dress, shoes, jewellery…but you just can't decide what you want for your tiara.!  Well of course you can't! With so many shapes, sizes and costs out there, choosing one more thing can be overwhelming!  Here's an idea that is innovative, creative and often, can add an extra sentimental touch to your big day.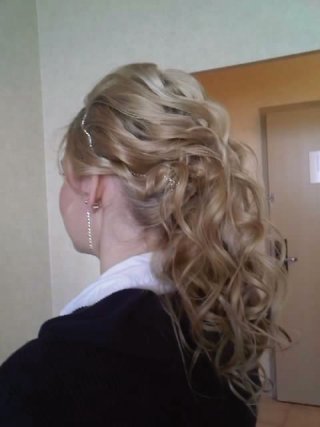 Do you have a necklace that was given to you by someone important or that you've worn to an important occasion in the past? Why not wear it as your tiara?
This idea is becoming more popular by the minute and all you have to do is simply take the necklace of your choice and place it on your head, either in a head band or tiara fashion, depending on the style of the necklace. Keep in mind that the some part of the necklace will have to be bobby pinned in for security, so if it's very expensive you may not want to use this particular one.
This trend is very cost effective and can add a special touch to the most important day of your life!
Happy experimenting!
/