Are you are bored with your look?  Want to do something bold without changing your existing hair style? How about bangs!  Creating a bang is a substantial change to your look so how do you know if it will work for you?  Here are a few tips for figuring out whether to bang or not to bang!

If you have a long forehead (a lot of space between the bridge of your nose and your hair line
ex
Rhianna or Tyra Banks), bangs are a great option for you!  It's only common sense that if you have a large forehead, covering it with bangs will eliminate that illusion.  If you have a short or narrow forehead, bangs are not a very good option for you.  Having a bang in this instance will make your whole face appear shorter.  If you have a narrow forehead and are still insistent on having a bang, at least keep them short (as shown top left) to elongate the face as much as possible.  Here are some tips for common face shapes;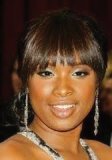 Round faces-
Steer clear of a bang that is straight across as it can make the face look wider.  Your best bet is a bang that is cut straight across with the sides left a little longer (Jennifer Hudson pic).  This is better than a completely rounded bang which can tend to make the face look even rounder.
Long faces- If your face is long, be careful not to choose too round of a rounded bang as it can make the face appear even longer.  Keeping the bangs at eyebrow level or longer is a good idea.
Oval faces- If you have this face shape, you are one lucky duck!  People with oval shaped faces can do just about anything with hair style or colour and are pretty much guaranteed to look great!
Contrary to popular belief, you don't need any fancy gadgets or expensive gimmicks to get volume in your hair.  All you need is a comb or brush!  Here's how you do it!

Apply a styling aid (mousse, gel, serum, etc) to your wet hair and blowdry/straighten as normal.  When you are finished, grab your comb or brush.  If you're going to use a brush, a bristle brush works best and they're very inexpensive. You can purchase one at your local drug store.  A vent brush won't do the job and a round brush will only get entangled in your hair.
Where ever you hair is parted, take a section about half an inch below the part and about two inches wide on each side of your part.  Hold the section up by the ends and drag the comb/brush down to the root on the under side repeatedly until you start to form a base of 'nesting'.  This is called teasing and has been a girl's best friend for ages! 
After your base is a half to an inch thick, lay the section back down. I know what you're thinking…now my hair looks like a rat's nest!  Not to worry!  Take your comb/brush and lightly stroke the top being careful not to penetrate to the underneath. 
Finish with a bit of spray or pomade to tame fly always and, voila!
If you are still feeling the need for bigger hair, you can add a section in the crown area or simply continue to make as many sections as you wish!
/